Quick One Page Checkout - Magento Extension
How it works
This checkout process takes only ONE MINUTE for the customer to place order! Please Check this video.
Overview
Quick One Page Checkout removes unnecessary steps and makes the checkout process much simpler. It provides a nice checkout experience for the customers and greatly increases your website sales. The default and standard checkout that comes with Magento includes several "continue" actions required by the customer, this makes checkout very cumbersome and may lead to shopping cart abandonment. This Quick one page checkout extension has been implemented in thousands of web sites and our clients enjoyed the benefits with increased sales. The extension supports Multilanguage and it is used by numerous sites all over the world. Quick One Page checkout is Mobile Responsive and it supports all mobile devices. Quick One Page checkout is a useful magento plugin for your store.
Product Features

This express one page checkout supports all kinds of popular ordering options and can integrate with any payment methods.


This magento one page checkout extension works very well in all popular browsers.


Quick One Page Checkout extension is Mobile Responsive and it supports all mobile devices.


Helps customers to have checkout process much simpler and quicker.


Enables your customers to enter Promotion code, and to get the discount in checkout page..


Provides ability to review your order before hitting place order.


This Magento checkout is top rated in Magento Commerce because it greatly reduces Shopping Cart Abandonment.


This extension can easily integrate with any website theme and we provide full support for the installation.


Quick One Page Checkout is five times faster when compared to the Standard Magento Checkout process and saves time for the customer.
Mobile friendly design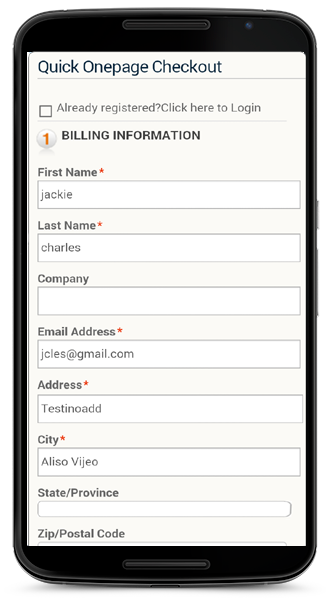 Installation Manual
Easy step by step Installation - Click here for Wiki Installation Document
Testimonials
"It has been a pleasure doing business with Mage Extensions and Themes. Their One Page Checkout is amazing value and their help and service have been second to none. I would highly recommend them to anyone. Already had positive feedback from my customers."
Robert from WMO Healthcare - www.wmohealthcare.com

Click here to see what customers say about this product
More Information

| | |
| --- | --- |
| Product Name | Quick One Page Checkout - Magento Extension |
| SKU | METPROD001 |
| Brand | Mage-Extensions-Themes.com |