Magento Community Edition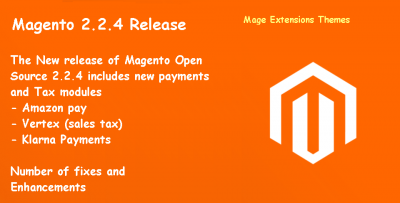 New release of Magento Open Source 2.2.4 includes new payments and Tax modules - Amazon pay, Vertex ,Klarna Payments, etc..
Magento 2.1.8 updates

Magento announced the new release of Magento 2.1 updates and Magento 2.1 updates are available now. Magento Commerce (formerly Enterprise Edition) and Magento Open Source (formerly Community Edition) 2.1.8 feature over 90 improvements as well as pull requests from the community. The new updates include:
Cache tuning for improved performance
Mass action performance optimizations
Faster deployments for multi-language sites
Reduction in the amount of memory that mass actions require, and performance optimization
Improvements to Elasticsearch performance, indexing of large catalogs, cache tuning, and URL re-writes
Top Magento Events Magento Live UK 2016 and Imagine 2017
Top magento events Magento Live UK 2016 and Imagine 2017 are nearing.
Magento Live UK 2016 is planned in London. Dates are Monday, June 20 — Tuesday, June 21, 2016.
Imagine 2017 is planned during during April 3rd to April 5th at Las Vegas.
Enjoy the participation and get the maximum benefit out of these two big magento events.