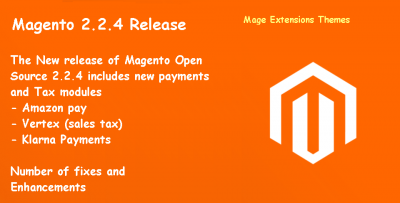 New release of Magento Open Source 2.2.4 includes new payments and Tax modules - Amazon pay, Vertex ,Klarna Payments, etc..
Magento 2.0 - Overview
The Magento commerce shopping cart system was developed as a response to OS Commerce. OS Commerce was an early, open-source eCommerce system. Magento now has over 110,000 eCommerce store fronts that use the Magento Community or Enterprise platform. It's feature rich, and contains nearly everything a marketer needs. It's very stable, and set up properly, can run very fast. The most awaiting launch in ecommerce of 2013 is nothing else but Magento 2, the new version of Magento.
Magento 2.0 is an overhaul of the Magento code base, and includes a visual editor, new "containers" for handling visual elements on a site, better overall performance and more.
Magento is the most widely used ecommerce platform. Its flexibility, sleek designs, excellent user experience, sturdiness, security, etc., have made it the most popular ecommerce platform. Now, with a bunch of innovative features, Magento is all set to launch its new version.
Let's have a look at the new features expected to be packed with the new Magento 2.
Magento Community Online store owners are happy to know the release of Magento Community Edition 1.8.0.0.
Key highlights of Magento Community Edition 1.8.0.0 include:
Performance Improvements
Enhanced Tax Calculation Algorithms
Functional Improvements
Security Enhancements