Analysis done by an independent web research company says that around 50% of the Shopping Cart abandonment happens due to either the Checkout Process is too long OR Website Navigation is complicated. How depressing!!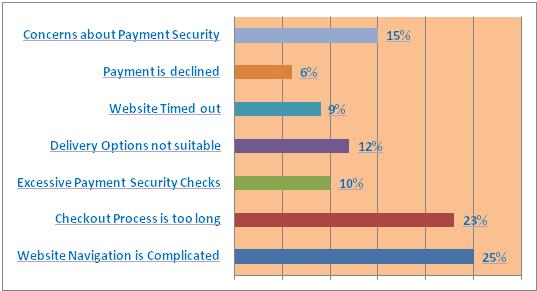 Let's analyze why the customers leave their Shopping Cart?
If an Online Store Owner makes the Checkout Page as simple as possible, Customers will be able to complete the Checkout Process in no time.
Customers expect to have Magento checkout process much simpler and quicker.

Magento checkout should be less cumbersome.
Ability to complete magento checkout process within few clicks.
Ability to choose payment method of their choice
Needs ability to review their order before hitting place order.
All these excellent features are covered in one Magento plugin - Quick One Page Checkout Magento Extension.
For Magento Online Stores, Quick One Page Checkout extension makes the job easier for the Store owners. By using this extension, Customers can complete the Checkout Process in a minute. Really! Check the video
http://www.youtube.com/watch?feature=player_embedded&v=gStXonBvbmg
This fast magento one page checkout supports all kinds of popular ordering options and can integrate with any payment methods. It works very well in all popular browsers. Quick One Page Checkout is five times faster when compared to the Standard Magento Checkout process and saves time for the customer. It reduces Shopping Cart Abandonment.
5000 + customers all over the world are using this and reaped the Benefits of Increased Sales.
You can find their feedback @ http://mage-extensions-themes.com/testimonials/
For more details on this product or to purchase, Please visit
http://mage-extensions-themes.com/extensions/quick-one-page-checkout.html