How it works
This checkout process takes only ONE MINUTE for the customer to place order! Please Check this video.
Overview
Quick One Page Checkout removes unnecessary steps and makes the checkout process much simpler. It provides a nice checkout experience for the customers and greatly increases your website sales. The default and standard checkout that comes with Magento includes several "continue" actions required by the customer, this makes checkout very cumbersome and may lead to shopping cart abandonment. This Quick one page checkout extension has been implemented in thousands of web sites and our clients enjoyed the benefits with increased sales. The extension supports Multilanguage and it is used by numerous sites all over the world. Quick One Page checkout is Mobile Responsive and it supports all mobile devices.
Product Features
This express one page checkout supports all kinds of popular ordering options and can integrate with any payment methods.

This magento one page checkout extension works very well in all popular browsers.

Quick One Page Checkout extension is Mobile Responsive and it supports all mobile devices.

Helps customers to have checkout process much simpler and quicker.

Provides ability to review your order before hitting place order.

This Magento checkout is top rated in Magento Commerce because it greatly reduces Shopping Cart Abandonment.

This extension can easily integrate with any website theme and we provide full support for the installation.

Quick One Page Checkout is five times faster when compared to the Standard Magento Checkout process and saves time for the customer.
Installation Manual
Mobile Responsive
Standard View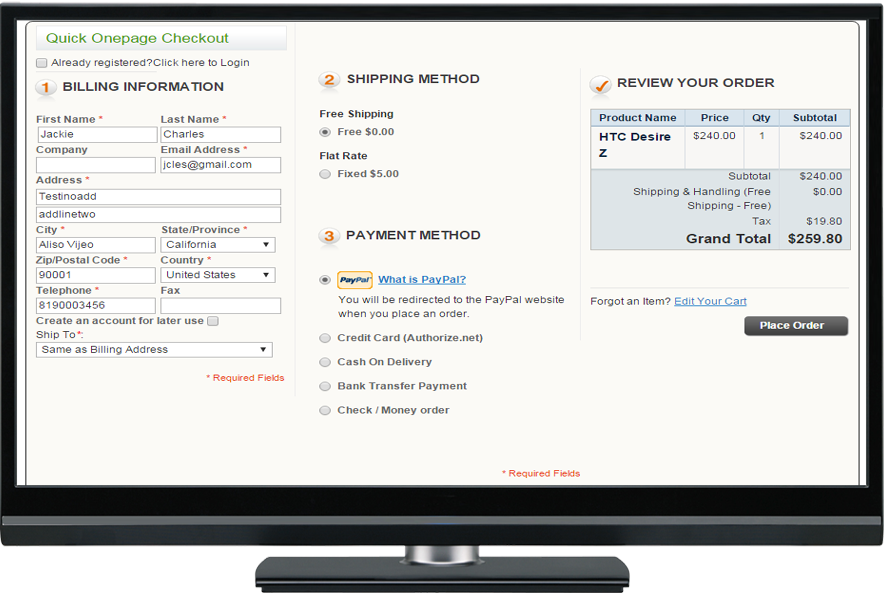 Tablet View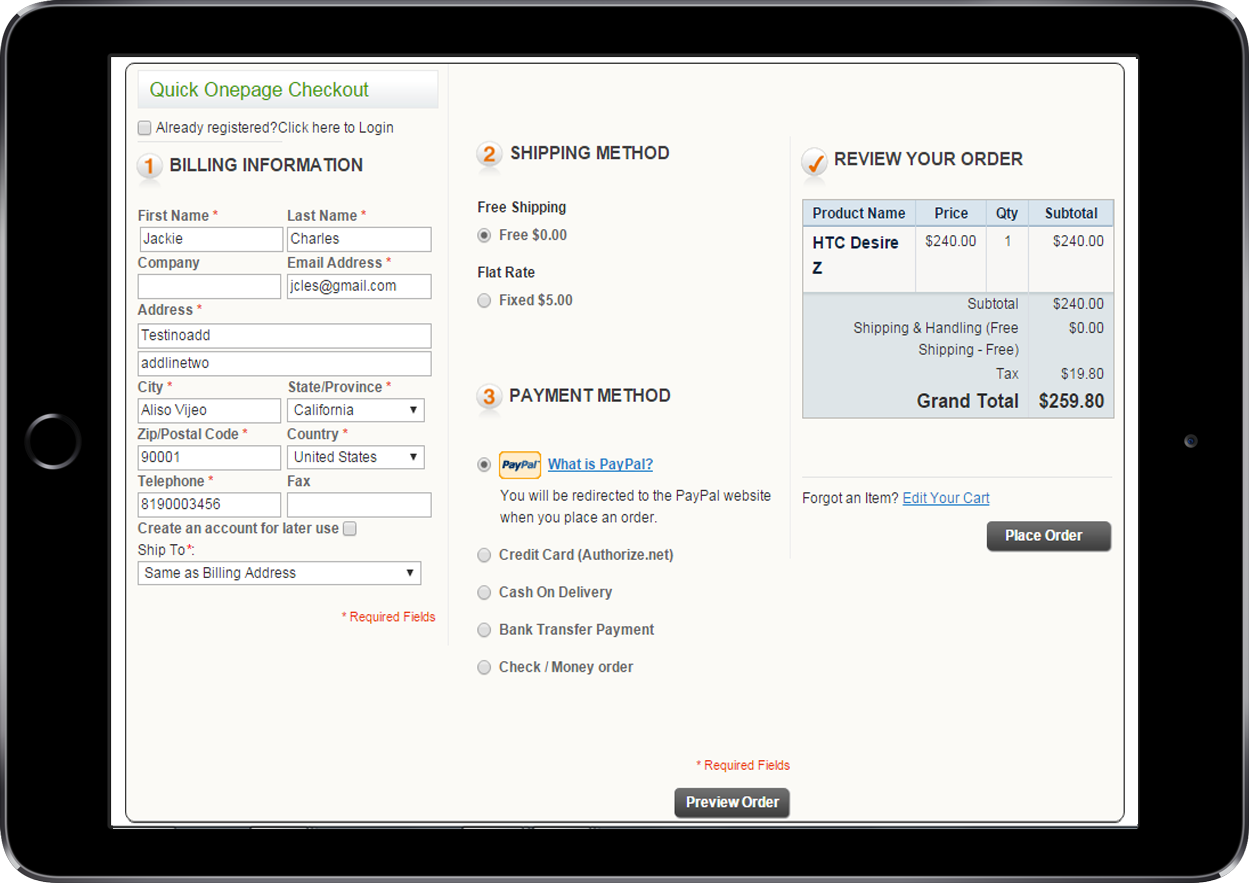 Mobile View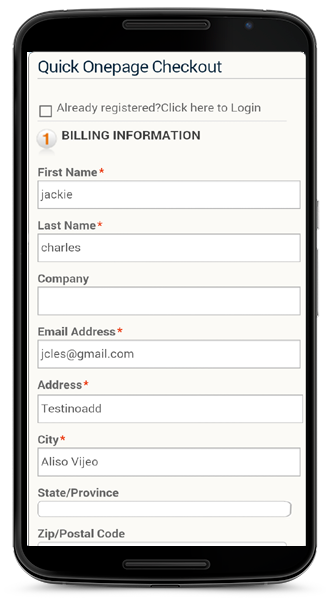 Customer Show case
Customer websites using our Quick one page checkout extension:
RED HAT FASHION, USA http://www.redhatfashion.com
WMO HEALTHCARE, Ireland http://www.wmohealthcare.com
LEDUS, UK http://ledus.co.uk/
AUTOCOM, USA http://autocom.com/
THE SCOTTISHWEAVER, USA http://www.thescottishweaver.com/
SWAGUN LIMITED, NETHERLANDS http://www.swagunlimited.nl/
YOUR HEALTH SUPPLIER, USA http://www.yourhealthsupplier.com/
OUTDOOR LIVING DIRECT, AUSTRALIA http://www.outdoorlivingdirect.com.au/
PERFUME BOUTIQUE,USA http://perfumeboutique.com/
FREESTYLE FIETSEN, NETHERLANDS http://www.freestyle-fietsen.nl/
CERAMICS LIFE, USA http://www.ceramicslife.com/
TOBEBRIDE, ROMANIA http://www.tobebride.ro/
and more...
Testimonials
"It has been a pleasure doing business with KAM Technology. Their One Page Checkout is amazing value and their help and service have been second to none. I would highly recommend them to anyone. Already had positive feedback from my customers."
Robert from WMO Healthcare - www.wmohealthcare.com

Click here to see what customers say about this product
Customer Reviews
Amazing Extension.It makes Customer to complete the checkout very easily. Thanks Alot for this Such Great Extension Keep it up. (Posted on 3/4/2015)
Perfect extension, as magento provider we search for the best, and for checkout this is the best we found. And our customers say the same. (Posted on 2/20/2015)
This is the cleanest design we've found. Very customer friendly and just what we were looking for a checkout solution. (Posted on 1/25/2015)
It makes checkout steps are very easy. It has lots of features. (Posted on 1/5/2015)
This is by far the greatest simple checkout available. The last update with responsive function makes this module perfect. (Posted on 12/15/2014)
Installed this one page checkout extension. It's straight forward and useful. It is mobile responsive too. Works great on mobile smart phone. Thank you. (Posted on 10/12/2014)
I recently installed this extension. Support team was really really helpful. I would definitely recommend it. (Posted on 10/5/2014)
Great product. Very essential to improve conversion.
(Posted on 3/10/2014)
Easy to use and good to reduce shopping cart abandonment issues.
(Posted on 2/27/2014)
Extension works great! Very much pleased.
(Posted on 2/23/2014)
Extension met our needs just perfectly. Easy to install and configure.
(Posted on 2/3/2014)
Extension works great and the installation is easy and the extension is very flexible.
(Posted on 1/22/2014)
We were using a different extension at first and finally gave up on it and chose to use this one by KAM Tech instead. What a good difference! Highly recommended
(Posted on 1/16/2014)
Very great extension. I strongly recommend this.
(Posted on 1/11/2014)
Excellent job! I definitely appreciate your help on your support.
(Posted on 1/7/2014)
Extension got great features and very easy to install. . Support was very good.
(Posted on 12/26/2013)
Many thanks for the support. Waiting new and interesting Magento modules from you All the best
(Posted on 12/20/2013)
Best extension for One Page checkout process and works very efficiently.
(Posted on 12/18/2013)
Installed quick one page checkout extension and it works smart. Very prompt and professional support for customization.
(Posted on 12/16/2013)
Rating is 5 out of 5 for the excellent product and the tremendous support.
(Posted on 12/16/2013)
Extension looks great, I am very pleased. Many thanks again for your speed and quality of service.
(Posted on 12/9/2013)
Checked with support team for Installation help. Got the help very immediately. Awesome support!
(Posted on 11/28/2013)
I just wanted to thank you for your very quick and professional support.When I reached out for help I got it straight away in a very kind and helpful tone.
(Posted on 11/14/2013)
Fantastic support by Kamtech team. Great checkout extension.
(Posted on 11/6/2013)
After some hints from your supports the extension works like a charm! Thank you very much!
(Posted on 10/25/2013)
Quick One page checkout extension works very nicely. Our customers like this very much.
(Posted on 10/16/2013)
Thanks for this great component and the excellent service provided. Feels very confident!
(Posted on 9/10/2013)
Good to see the reduction in shopping cart abandonment after installing this extension.
(Posted on 8/8/2013)
Your support is the best. Thanks very much
(Posted on 8/7/2013)
This Quick one page checkout extension is best fit for my website. Strong recommendation.
(Posted on 7/30/2013)
KAM Technology helped me very fast in the weekend. I am impressed, Thanks so much. From now on I will buy plugins from your shop. (Posted on 7/24/2013)
Kamtech worked very diligently to resolve our issue and were very kind and pleasant to work with.
(Posted on 7/19/2013)
Checkout process is now very simple for our customers. Very much pleased with this product.
(Posted on 7/17/2013)
Very good extension. The support team is also very much helpful. Great Job. (Posted on 7/10/2013)
Great Extension for us. Perfectly does what is expected.
(Posted on 6/8/2013)
I could see the sales got increased after installing this extension. Worth purchase!
(Posted on 5/27/2013)
Your support and services will always be remembered. Good Job!
(Posted on 5/15/2013)
Initially I had some other extension for checkout and it was having a lot of issues. I purchased Kamtech's Quick one page Extension. What a difference! I feel this is the best product for checkout.
(Posted on 5/13/2013)
Well compatible with all magento versions. Excellent!
(Posted on 5/9/2013)
I appreciate Kamtech for their truly professional support.
(Posted on 5/6/2013)
Good support for Installation. Quick Service!. Thank you very much
(Posted on 4/30/2013)
It completes the checkout process in just a minute!. Great extension.
(Posted on 4/28/2013)
Bought this extension recently and felt very satisfied with the functionality. Very Good Extension
(Posted on 4/17/2013)
Customer support was brilliant. Highly recommend to all.
(Posted on 4/16/2013)
Fantastic support. Very quick response from Kamtech support team. Really appreciate!
(Posted on 4/11/2013)
Excellent plugin. It works out of the box! Very useful.
(Posted on 4/11/2013)
Approached Kamtech support for installation help. Got quick response. Delighted with the customer service.
(Posted on 3/28/2013)
After installing the Quick one Page checkout extension, my customers are very happy. They are able to complete the checkout quickly.
(Posted on 3/20/2013)
Would rate Kamtech's customer support is the best we ever had for my store. Excellent work!
(Posted on 3/17/2013)
" I was happy with your support.Thank you for the great extension ."

Peter Nuttall from http://picstop.co.uk/ (Posted on 3/12/2013)
KAM Technology were a great help when we had a few problems with our site. Their products work brilliantly and always ready to provide support. Thank you guys, keep up the good work. (Posted on 3/11/2013)
It has been a pleasure doing business with KAM Technology. Their One Page Checkout is amazing value and their help and service have been second to none. I would highly recommend them to anyone. Already had positive feedback from my customers www.wmohealthcare.com (Posted on 10/15/2012)
Amazing plug in and even better support! Helped me with all my questions in a rapid manner. Thanks guys! (Posted on 9/20/2012)
Quick One Page CheckOut
June 25,2012

The extension was easy to install and works great. But what really impressed me was the support I got after the fact. It's real refreshing in this day and age to get quick AND effective support!

Tim from amedeoexclusive.com (Posted on 6/25/2012)
Quick One Page checkout
June 23,2012

This team is amazing!!!
Very professional, efficient, and very very quick.
Excellent customer orientation.
The very best I have ever worked with.

Jose from http://www.berdea.com
(Posted on 6/22/2012)
Quick One Page checkout
June 16,2012

I am thankful to kamtech team. they helped me out solving the problem.
thanks

Manik from http://www.thewildpineapple.info/ (Posted on 6/15/2012)
Quick Onepage Checkout
February 28, 2012

Excellent service. Shalini from tech support worked with me until the
installation of the Magento extension was complete in spite of numerous
obstacles. I look forward to working with them again!

Robert Arnold from http://www.saffireecigs.com/ (Posted on 2/27/2012)
February 16,2012
Quick Onepage Checkout

Hi guys I want to say I had one issue specifically with IE9 and this dream team did take care of it and now I am having them work on a cart for an old system of mine I need to have fixed so yes. Use this cart and this company I really have no abandoned carts anymore and if the make a mistake they will keep trying till they can purchase it! http://mypassionforflowers.com Kam tech rocks! I have multi-domains that all use his cart I call it flawless and worry-less now my orders went up the first day it was installed. Now I am encouraging him to make as back end for magneto for all his retailers using his program.. I hope he makes one soon"

Bill Seward, President from mypassionforflowers.com (Posted on 2/15/2012)
Quick One Page CheckOut
December 19,2011

Bought the Quick One Page Checkout, had problems with install and contacted support. Within 10 minutes I was up and running. How impressive. Great Job.

Stanley from http://buygolfgrips4less.com/ (Posted on 12/18/2011)
Quick One Page checkout
November 24, 2010

"In doing some research on shopping cart abandonment, I ran across Quick One Page Checkout. I decided to utilize their extension because of the reasonable price-point and the simplicity of the layout. When I placed my order, I opted to have KAM Tech install the extension for me as well. Within 24 hours they had me up and running. They also did the install in the wee hours to avoid any missed orders! I am very impressed with their services thus far and cannot wait to see my sales increase."

Aaron Abshire from www.heroestactical.com (Posted on 11/23/2010)
Quick One Page checkout
August 16,2010

"We aggressively advertise on Google via AdWords, the conversion rate immediately jumped by around 15% upon installation (and a tad bit of tinkering) of this module – Quick One Page checkout. It paid itself off in the 1st day of use. Thanks!"

Sean from www.workoutcenter.ca (Posted on 8/15/2010)
March 8, 2010
Quick One Page Checkout

Easy to Install,

"Very straight forward easy to install. The product functionality is ok. it worked as expected"

Alberto Gonora from www.nitrocircus.com (Posted on 3/7/2010)
February 22, 2010
Quick One Page Checkout
works like a charm,
"I've installed it and it works like a charm. Congrats for a well crafted extension."

Ovidiu GHEORGHITA. from www.majorshop.ro (Posted on 2/21/2010)